From the creator of HSMAdvisor.
FSWizard - Free Speed and Feed Calculator APP for iOS, Android and Browser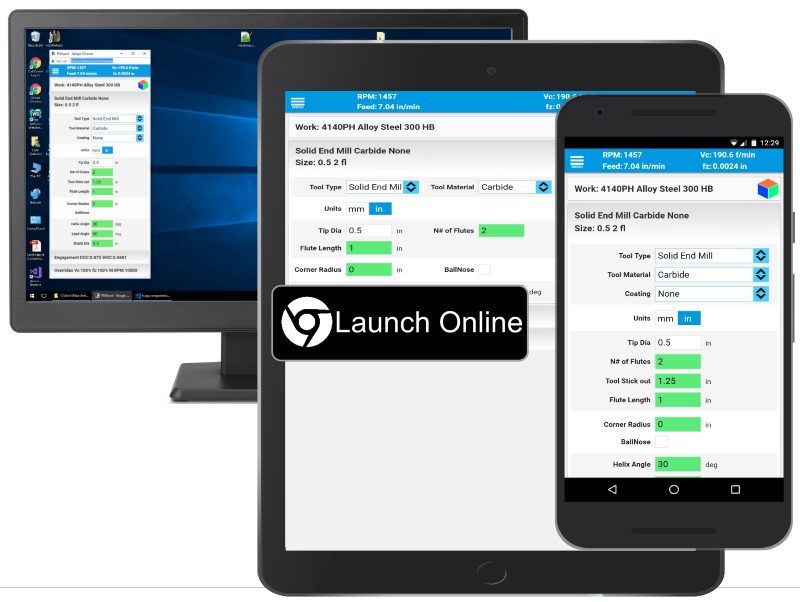 If on a mobile device click on Open in a New Window and then "Add to Home Screen" menu action to install FSWizard on your Android or iOS device.
This app allows CNC Machinists to calculate cutting parameters for wide variety of material groups.
Key features of FSWizard Machinist Calculator
Built-in material and tool database
Materials ranging form Mild and tool steels to Stainless, Aluminums and Plastics
Speeds and Feeds all kinds of Machining operations. Supports Milling, Drilling, Tapping and Turning tools
Drilling Speed and Feed Calculator
Milling Speed and Feed Calculator
Turning and Tapping Speed and Feed Calculator
Calculate Cutting Speed (SFM), Chip-Load (ipt), RPM and Feed-Rate.
Calculate required Machining Power
Calculate optimal Depth and Width of Cut
Calculate Chip Thinning and HSM(High-Speed Machining)
Multiple free geometry calculators and reference charts under MENU button
Reference data for FHS, SHCS, HeliCoil, Pipe Taps, Scientific Calculator, Bolt Hole, etc, etc...
How to calculate speeds and feeds using FSWizard
Click on the Material button to select the work material
Select the Tool Type drop-down to pick a proper tool for the job.


Milling, Drilling, Tapping and Turning tools are supported

Then enter proper tool geometry and cutter engagement.
Your results are displayed on the blue toolbar
Click on the toolbar to get more insights about your cutting data.
MENU button gives access to additional calculators and reference data!
Please post your questions and suggestions on our support forums!