Tonight I released the latest version of HSMAdvisor and the plugin for Mastercam 2022, 2021 and 2020
Most of the issues reported by our users have either been fixed or otherwise addressed.
It has bug fixes and an improved tool creation routine.
Additionally, the Tool Path Write dialog now has an option to disable the toolpath regeneration and the actual values that will be written in the toolpath: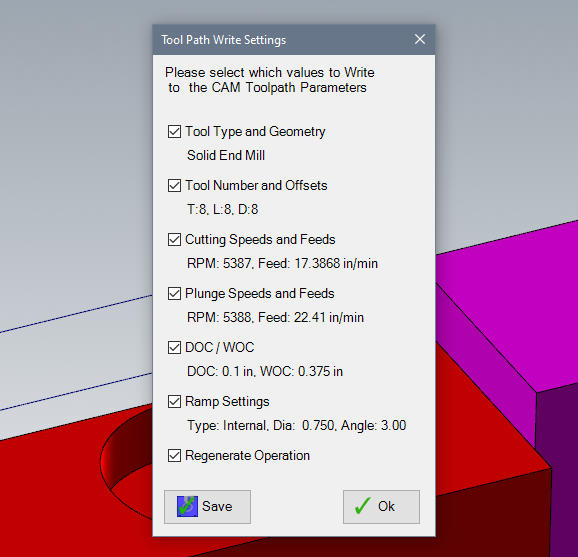 The Save button saves the current state of checkboxes as default.
Mastercam plugin can be downloaded here: https://hsmadvisor.com/hsmadvisor_for_mastercam
The latest standalone HSMAdvisor version is available here: https://hsmadvisor.com/download
It has some back-end improvements plus additional materials.
What's new in this HSMAdvisor update:
Improved feed rates for carbide tools on soft plastics.
Added "Debug" log in the settings.
If you have any issues, please make sure to send me the debug text.
New Materials added:
PTFE, Teflon
AISI 52100 Annealed (40 RC)
AISI 52100 (60-65 RC)
AISI 9310 Steel, AMS 6265, AMS 6267 (Annealed 245 HB)
Please let me know if you have any feedback or questions!