HSMAdvisor has more materials and better tool deflection model!
August 7, 2017, 4:36 pm

Article Summary

Eldar Gerfanov

August 7, 2017, 4:36 pm

Eldar Gerfanov

November 23, 2017, 5:41 pm

1893

Public

by Eldar Gerfanov

Author Summary

Sun August 14, 2022, 3:55 am

Sun August 14, 2022, 3:55 am
Better Material Cross Reference
Yes you can now use HSMAdvisor with non-US/UNS material standards!
Our users have asked for better integration between HSMAdvisor's built-in Materials library and the thing called Cross Reference table and finally here it is!
Now when you click on the "More" button next to the "Material" drop-down list...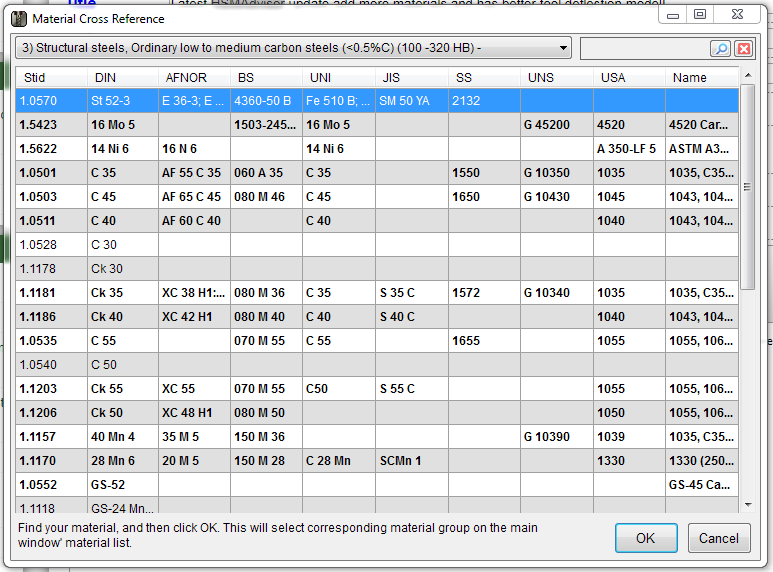 ... the updated Material Cross Reference dialog appears.
It has new Search feature to easily find the material you are looking for.
The table also has a new column called "Name" that contains the name of the closest material found in the HSMAdvisor's database.
Please note that the name of the matching material does not necessarily need to be matching the proper standard name.
Standards that have been matched to the materials are in bold font style.
When you select the proper standard, you click on the OK button and the matching material will be selected in the HSMAdvisor's Speeds and Feeds tab.
In addition to the changes above quite a few new materials were added to the fold as well.
Better Tool Deflection
I felt that the previous tool deflection model was not perfect as it did not include taper of the End Mill's shoulder.
To solve the issue we added "Tapered Shoulder" checkbox next to the "Shoulder Len." field.
If you suggested new features in the past, you know how much I hate to add new controls...
But i just had to in this case. There was just no other way!
Now when this box is checked, the shoulder will have a shape of expanding taper connecting with the shank diameter.
The slope of the taper is controlled entirely by the length of the Shoulder and diameter of the shank.
Check out the tool display for the straight versus tapered shoulder:


With all engagement and feed values identical the sample on the left shows 0.0036" deflection and the sample on the right shows just 0.001" of deflection.
Which is the way it should be!
Does your "other" calculator do the same?...don't think so!
Things to Do Next....
In the near-term scope of the development I am planning to:
Release an update for MasterCAM 2018 hook that has been in the works for a few weeks.
Combine the data from the Materials Cross Reference dialog with the HSMAdvisor's own Materials database And add Favorite Materials functionality.
This might require a complete rework of the Material selection UI. Perhaps the whole thing will be moved into a separate window to prevent cluttering the Speeds and Feeds page.
Will keep you updated.
Regards!