There had not been any updates to HSMAdvisor for several months now.
And there is a very good reason for that.
We have been working hard on a lot of new super-cool features and improving the old functionality.
BTW: This Update Resets the Trial Counter!
Let us cut to the chase.
Here is a list of all the latest changes and improvements:
New Cut Cloud controls added (beta only!)
New Cast Aluminum materials
New combined Tool Torque and Deflection Limit controls
New and Improved Tool Display Graphics. Now for Turning too!
Lathe Tools now consider Shank size when suggesting chip-load.
New Mass Edit - > Set SFM/Feed Overrides command in the Tool Database
Improved Tool Deflection calculations
Improved and refined a lot of behind-the-scenes stuff
I am going to explain the most important improvements below.
We will start from the brand-new feature that is called CutCloud.
Unlike other guys who mostly use the internet for licensing their product, we are using it to let our users share and access more information - something Internet was made for.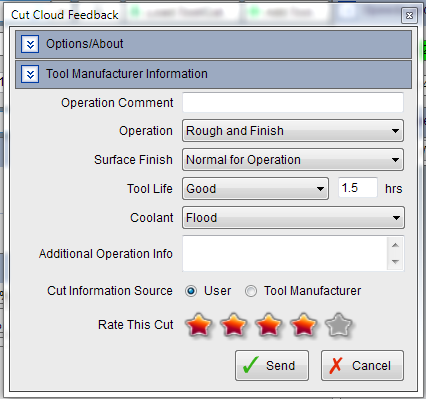 CutCloud is still in development stage.
But already you can download and upload your cutting parameters. This will be a place where our users get both the real-world user and the manufacturer-suggested cutting parameters.
Deflection and Torque display built into the Limits controls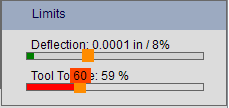 I wanted to decongest the space and combine the Limit and the ProgressBar in one control. The yellow square track is the Limit and the green bar in the current value. When Value hits the limit it becomes red and triggers a warning.
New and Improved Tool Display Graphics
This one has been mentioned by my customers quite a few times. So i finally had enough time to implement the better tool graphics:
Also....
We improved calculation of deflection for End Mills and added deflection calculation and limiting to Turning.
More precise calculations allowed us to expand the allowed deflection values range.
So please double-check your deflection Limits.
Any feedback? Suggestions?
Please do not hesitate to contact me via email or support forums!
Regards.