Latest advances in tool technology make milling of high carbon and tool steels as reliable and predictable as benign aluminium alloys.
In this video a large 4140 steel component is being roughed out at 2700RPM and 600 inches per minute.
While achieving impressive material removal rate (20 pounds of steel machined off in a matter of half an hour!) the tool life puts the old school square shoulder endmills to shame.
Yes, it could(and should) have been machined using a bigger cutter, but I wanted to put the tool to the test.
And it performed beautifully: Was able to surpass the recommended starting speeds and feeds by at least 170%!
It is a 1" dia 5 flute Tungaloy DoFeed hi-feed cutter that Tom Muller (Toronto Tungaloy tool rep.) set me up with.
I bumped into him the other day at the office. He recognized me as one of his LinkedIn contacts and asked me how it was going (I do envy people's ability to have such a good memory for faces). At the time I was programming the steel component you see on the video and asked Tom if he had anything that would help us effectively remove the bulk of material.
Turns out we had one of his amazing feed-mills all along. So he suggested starting cutting parameters (which were very much in line with HSMAdvisor's recommendations) and even waited until I finish setting up a test cut to make sure the endmills work as advertised.
The next day I had more time to play with it and found out that the cutter appeared a lot quieter at slightly shallower DOC (0.030" versus 0.035") and a much higher cutting speed and feed rate (0.044" per tooth versus 0.028).
I also was able to use a much higher cutting speed than recommended because the mfg's recommendations (unlike HSMAdvisor) do not consider the actual alloy but a wide group it belongs to. So the speeds tend to be in the middle of the road (too high for tough stuff. too slow for mild one).
Here you can see the screenshot of the HSMAdvisor's calculation I used to make the cut: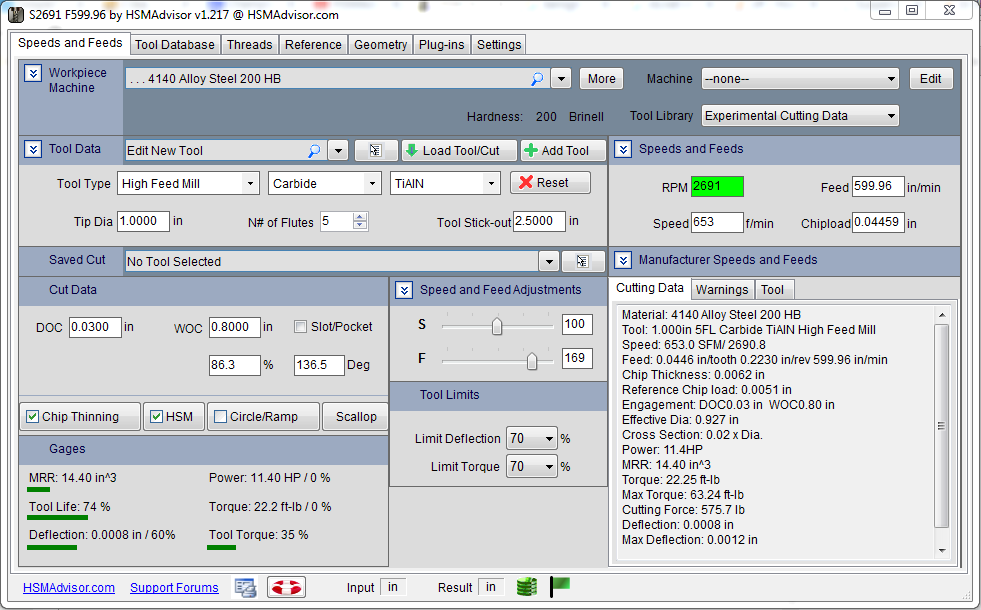 As I saved the tool into the HSMA database, I also saved this successful cut, so that there is no need to guess the next time when using this wonderful tool.
Back to the question of tool life: After about 30 minutes in the cut I did not see any (and I mean ANY) wear on the cutting edges.
At this rate we can easily get 6 hours of cutting edge life!
Some more photos: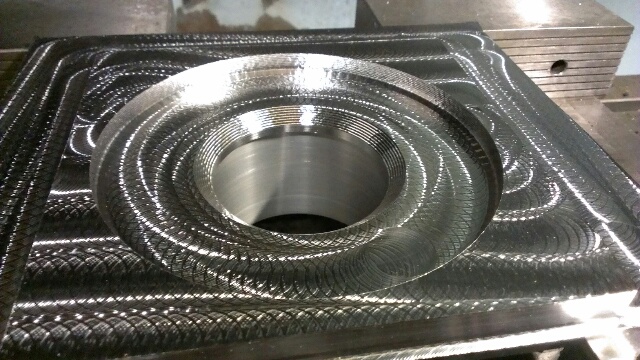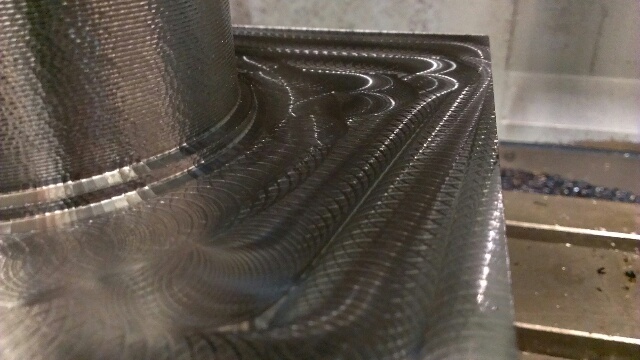 By the way. If you are using a Speed and Feed calculator other than HSMAdvisor, does its developer have access to real manufacturing equipment to continually cross-check the data his calc outputs with reality?
HSMAdvisor's does!