Whats New:
Update Notification Added
(when a newer version is available you will see a notification on the bottom of the HSMAdvisor window)
Number of Flutes and Corner Radius now display on the Tool Drop-Down list
Whats Improved:
Chamfering tools improved significantly. Almost everything has been redone and works very solid.
High Feed Mills Tool Display has been changed and internal model has been improved.
Tip Diameter now specifies the maximum Diameter of the mill.
A typo has been fixed in the material list. Now It displays 15-5 Stainless steel instead of 15-8
Here is how Update Notification looks:

Since you will be downloading this very update it will say you are up to date.
But next time i upload something, you will know right away!
Also Big changes happened to chamfering tools:
If before chamfering tools were treated only as a special case of an end mill, now they got their own module.
Depth of Cut now tells HSMAdvisor where the edge of the material is in relation to the Tool Tip
And Width of Cut is now relative to the effective diameter of the Cutter, that is in par controlled by the Depth of Cut!
This is how tool setup looks for a 0.020" tip dia, 0.25" shank dia chamfering tool with depth of cut set to maximum (note the Depth of Cut is equal to the Flute Length):


And this is how this same tool now looks on the Tool Drawing: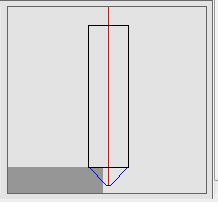 As you can see Width of Cut is now measured from the top edge of the Tool contact point with the material.