This weekend was very productive
I have finished work on floating license scheme and volunteers have begun testing it.
Licensing like that requires a lot of work on both the web side AND the client side. So a lot of things can go wrong and hopefully testing exposes all of the possible problems before a paying customer has the opportunity to face any.
Aside from cleanup here and there i have added the material search feature.
"Material" panel is now expandable and it is hiding a search field.
When you type anything into that field, material list right above will filter out items that contain the text being searched.
To clear search results user can just click the red x button to the right of the search field.
Here is how it looks: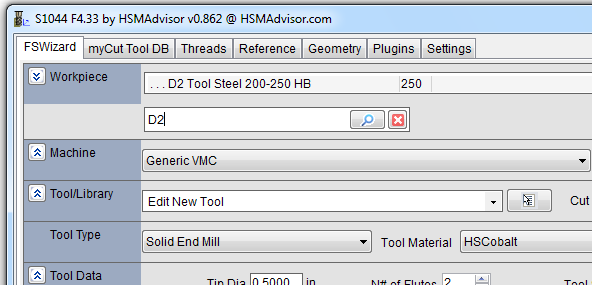 You don't really need to click on the magnifying glass button as searing and selecting of material is done in real time as you type text.
In fact in many cases simply typing things like "D2" will select the material you need.
What's New:
Material Search Feature
Added several new machine profiles to the default machine list
(When you install over existing installation, use machine import function to add them to your current machine list)
Finished floating license module (pending testing)
What's improved:
Added Aluminum 6061-T4 to materials list
Fixed missing Aluminum 6061-T6
Added floating pop-up box to pretty much all fields on the FSWizard screen
Cleaned up various things.