One of the latest additions to HSMAdvisor speed and feed calculator is the ability to set manufacturer-recommended speeds and feeds for work-piece materials and groups of materials.
Here is a YouTube video walk-through showing how to add S&F tables into the program https://www.youtube.com/watch?v=AJOgWfgy99U
HSMAdvisor uses Brand Name and Series Name to assign speed and chipload tables to tools.
A new "Speed and Feed Source" (S&F Source) indicator has been added to quickly tell user which speed and feed table is being used right now.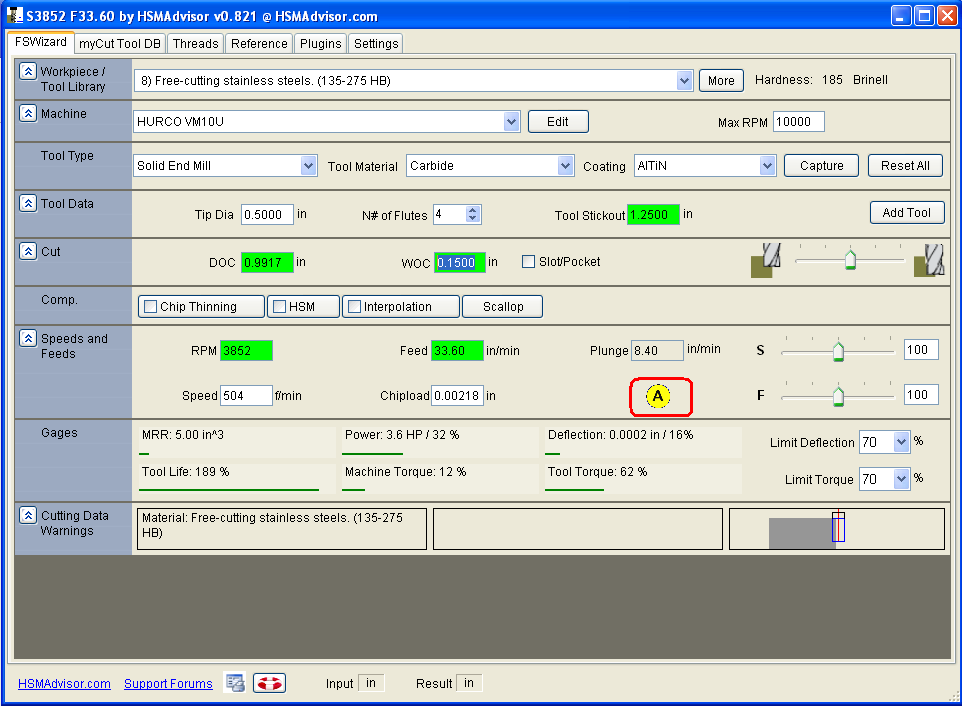 In all there are 3 possible S&F Sources are available:
| | | |
| --- | --- | --- |
| Automatic | Material | Material Group |
| | | |
| Speeds and Feeds are suggested by generic internal data tables and calculations. | Speeds and feeds are suggested by User-specified tables specific for this particular material | Speeds and feeds are suggested by User-specified tables specific for this particular material group |
Here is how you can create a Manufacturer-Recommended Speed and Chipload table from scratch

Dial in your tool data in FSWizard Tab
Set as much information as possible. Such as Coating, Tool material, Number of flutes etc.
Add tool to any Tool Library
Click "Add Tool" Button



Among other fields specify Brand Name and Series fields



If you click on Speeds and Feeds tab, you will notice that it is not available until you add the tool to the library

So we simply click Add button to create the tool.
Edit the newly-created tool Record
Click on Speeds and Feeds tab and you will notice that now it is available for edit:




Select "Custom Speeds and Feeds" switch box (1)
Select Material or Material Group for which you will be adding custom tables
Edit Cutting Speed (2) field to match you manufacturer recommendation
Edit Chipload table or click "Generate Sizes" (3) button to generate a new table
Use "Generate Sizes" Wizard to create a chipload table:
Here is a sample chipload table for some Hanita tool series supplied by the tool manufacturer:
(I know this is not VariMill Tool, Neither this chipload table is for Stainless steel)


After clicking "Generate Sizes" button a series of questions will be asked to quickly add this data to the tool table
You will be asked to enter the minimum diameter of the cutter you see on the table. Which is 0.25 in this case




Then you will need to give the largest diameter. Which is 1.0"



Then it will ask you for Diameter step size. In this case we can use 0.125" step size and then add the chipload for 5/16 endmill manually:


Enter Minimum Chipload you see for this material under minimum diameter on the table:

Enter Maximum Chipload for this material that you find under the biggest tool in the table:

As a result you will get a table that matches your manufacturer recommended values.

You can also modify, add and delete rows from the table to make minute adjustments:

After you are satisfied with how things look click Save button to apply the changes
Now whenever you load this tool (or any other tool with the same Brand and Series Name) and calculate speeds and feeds for this material, you will get a green icon telling you that those speeds and feeds were suggested by the manufacturer.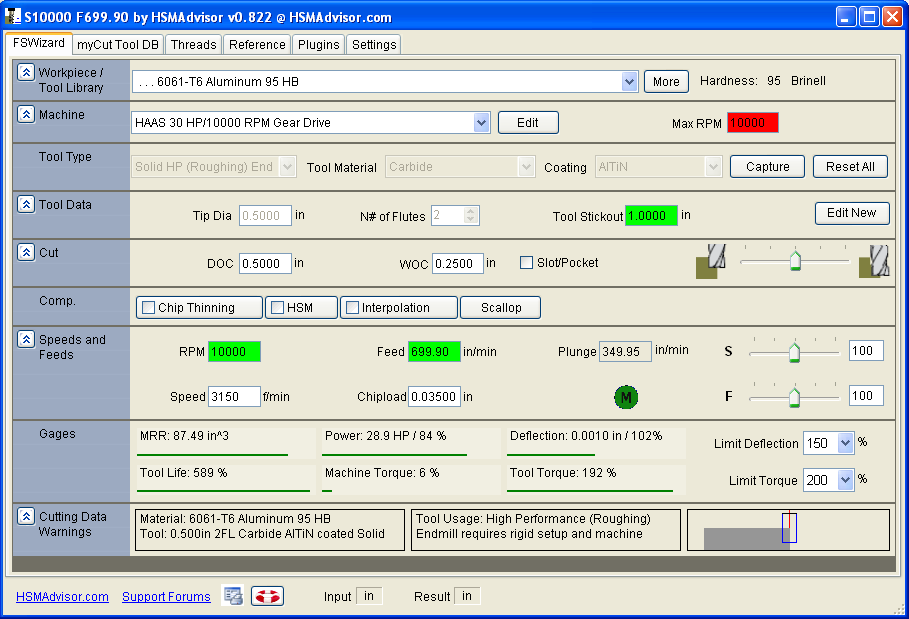 Very Important Note:
It is VERY important to consider, however, that manufacturer-recommended speeds and feeds WILL only be true for depths of cut suggested by them.
So what you will need to do before you move on, is to fiddle the "Performance" Slider to get default DOC and WOC (green colour of the fields) in the range suggested by the manufacturer.
In the end:
This is only a preliminary phase for custom speeds and feeds.
Later on i will add ability to create multiple tool records using custom chipload table as the source for the tool diameters.
As usual your feedback is very welcome.